SMART Finance
Your customized property financing
Financing is one of the most important pillars of your real estate investment. Read here about the advantages you can expect from SMART Finance and which aspects need to be taken into account when financing.
SMART Finance within the WunderAgent real estate cycle
---
The financing process of your property is a fundamental part of your real estate investment, not only before the purchase, but also during the use phase. Take advantage of the following benefits of your SMART Finance consultancy:
Determining your personal financing strategy

Selection of your suitable financing partner

Optimizing your real estate financing in accordance with your investment strategy
SMART Finance - the advantages
---
Your SMART Invest expert and your SMART Finance partner are in close exchange to ensure that your financing is optimally tailored to your investment strategy. With our financing consultancy, you have no disadvantages over other service providers. Your SMART Finance Expert is guaranteed to advise you independently of banks and can draw on the latest conditions from over 300 banks. In addition, scenarios such as unscheduled repayments, bonus payments, changes in repayment rates and suspension options are taken into account in your tailor-made offer, so that you can finance your property without worries in the long term.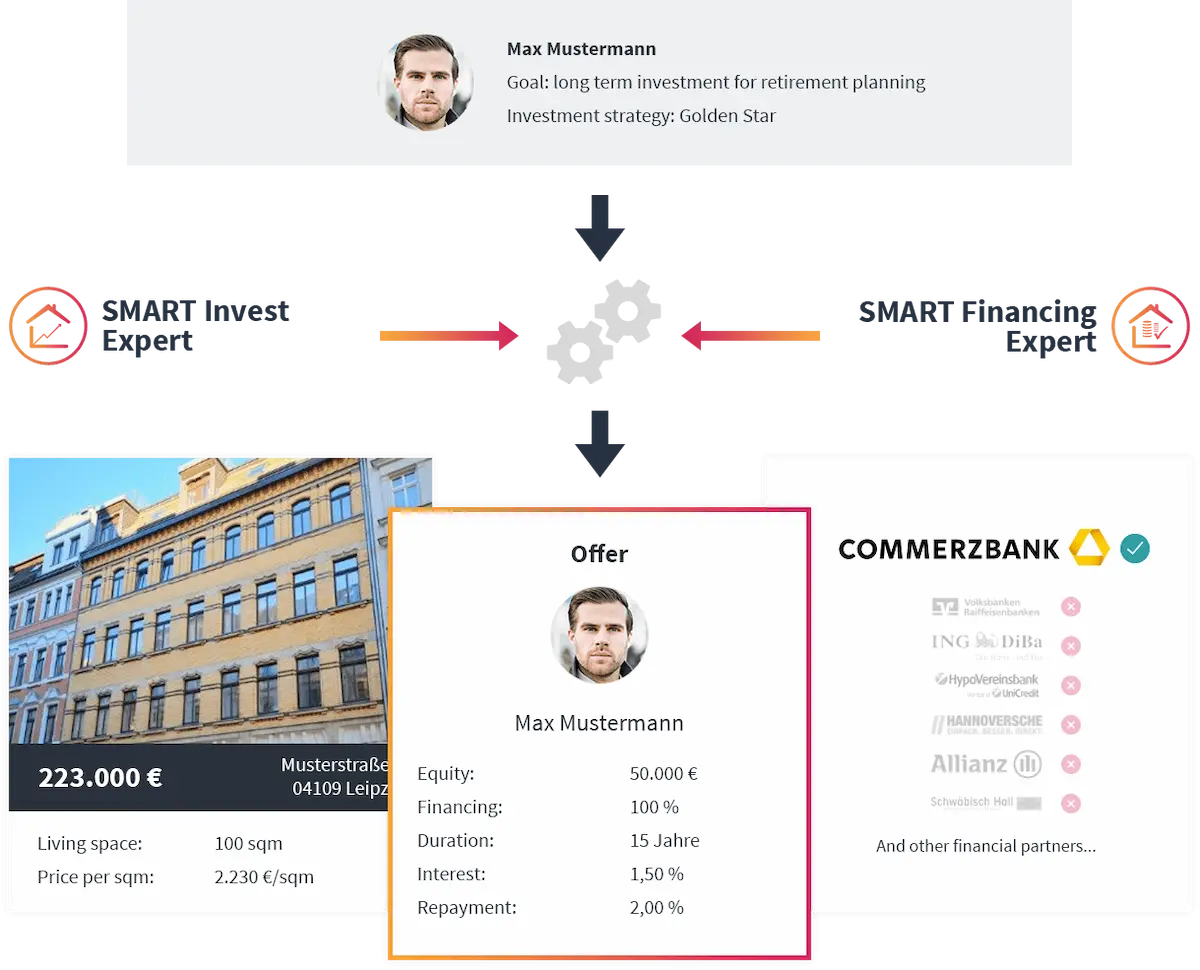 Ahmet Akin
SMART Finance Expert
Orhan Köse
SMART Finance Expert
Our financing experts will be happy to advise you
You tell us your wishes and we will jointly determine the appropriate financing strategy. Our experts will find the right financing partner for you by maintaining a constant exchange with your SMART Invest expert.
Our Service
---
Support from the first request to the payment

Financing concept according to your wishes

Comprehensive market comparison

In close consultation with your SMART Invest expert
The financing check is an upstream process in which the first key data are requested to clarify your financial feasibility. Once we have found out which framework you want and are able to invest in, which interest and repayment rates are possible for you, we will start looking for the property that suits you best.
Only when you have decided on one it makes sense to submit a property-related financing inquiry, which then forms the basis for a binding loan agreement. Now we can start to put together your tailor-made financing for you.
2. The Financing Application
Request a quote
You send us your inquiry for your real estate financing free of charge without obligation and with only a few details
Consultancy and concept
Our financing experts will contact you within 24 hours and after a short data comparison they will start directly with the detailed and personal consultation. In this way you will receive your individual financing concept.
Review of documents and reservation of interest
You've made your decision? Then send us the documents you need for financing. After this step the desired conditions can be reserved for you personally.
Contract conclusion of your desired financing
As soon as all necessary documents have been checked and approved, you will receive your financing solution as an individual contract offer.
Fast payout to your account
The financing sum is paid out to the desired account in a very uncomplicated way.
Our customers give our service a voice
---
SMART Invest success stories
With SMART Invest, WunderAgent developed a concept that saved me a lot of research and time. I always had a reliable partner at my side and knew my investment in good hands.
Canan K., Investor from Berlin
Interest rate development in recent years
---
The ECB key interest rate has been below the 2% mark for some time now. In the future, even long-term negative interest rates are predicted, according to promising statements by the new president of the ECB. This positive interest rate situation currently encourages borrowing by private customers and companies. In particular for installment and construction loans, the interest rate developments are extremely attractive, so that many are taking advantage of the moment and planning their investment projects. In the foreseeable future, investment should continue to be supported by a favorable interest rate policy.
Checklist for your well thought-out financing
---
We use the following checklist for your financing planning
Don't calculate the budget too tight

Make a cash fall and calculate your monthly possible loan installment with generous flexibility. Take annual expenses and special cases into account.

Link your financing to your investment

Take into account the expected monthly rental income and any tax payments when financing your property. Your financial advisor will also always keep an eye on your investment strategy and align the investment with it.

Let favorable interest rates be fixed for long-term periods

Even if forecasts rule out a foreseeable increase in interest rates, it makes sense to fix interest rates over the long term in periods of low interest rates. A minimum of 10 years is recommended.

With most lenders it is also possible to contractually agree a (multiple) change of repayment rate. This gives you the flexibility to adjust your monthly repayment rate to any changes in your income tax situation.

Structure your financing with a promising future

Include financing in your life planning. Think about when you want to be debt-free, what special payments might be due and what private and professional changes you need to take into account. You should arrange your financing in such a way that it still fits in well with your lifestyle in the future.

Securities bring interest advantages

Think about how much of your equity capital you would like to bring in. Many lenders offer better interest rates for a higher use of equity. Existing properties can also serve as collateral for financing partners.

Look out for special repayment options

Most credit institutions now allow free special repayments. With these unscheduled repayments, you can quickly reduce your remaining debt, which also has a positive effect on the interest rate.
You ask, we answer
---
The most frequent questions and answers
What are the decisive components for my credit line?
First and foremost, securities such as creditworthiness and Schufa data are required. Your Schufa data provide the lender with information about your solvency and payment morale, as well as existing financial expenses. In addition, information about your assets and income is required in order to estimate the realization of your monthly repayment. How high your monthly income is, how secure your job is and which assets you own influence the credit decision.
Is it also possible to get a loan without Schufa information?
Many banks refuse a credit inquiry due to negative creditworthiness. Nevertheless, some financing service providers offer a payout. However, the requirement for this is a high degree of transparency on your part in the form of a precise breakdown of your finances. Often the providers allow themselves to be paid the increased risk in the form of high interest rates.
How much equity capital do I need to take out a loan?
The more equity you have in your financing, the lower the interest rate on your loan. However, the well-known rule that one third of the financing should be equity is outdated. Rather, your future income situation is decisive for your ability to perform and the decision whether you can carry your monthly loan installments over the next few years.